Mission Statement
Empowering, strengthening, and facilitating people to find their way back to God.
Our mission is to respond to God's grace and empowerment by the Holy Spirit through worship, word, and sacraments. Resurrection Lutheran Church makes known the love of Christ by word and deed within our churches, communities, and the world. Since we belong to the Christian faith backed by Lutheran doctrines.  We welcome all those who believe in Jesus's earthly ministry into our fold.
About The Pastor
Rev. Miriam E. Sedzro
My journey began in Dzodze, in the Volta Region in Ghana, West Africa. I am the 9th born in a family of 12 children. I was educated in the Christian faith, first during my primary education, and then later in middle school. I attended a host of schools managed by clergy from the Presbyterians, Methodists, Roman Catholics faiths. My faith, however, was greatly included by my parents who belonged to a small Christian sect called First Century Gospel Church. This group believed in having a thorough knowledge of the Bible, and in faith healing. It was a very supportive church community in every respect. I will never forget their prayers and other support when I announced to them at a tender age that I intended to go to the United States to study. Even after my father's death, prior to my immigration to the U.S.This community continued to pray for me as I grew physically, mentally, and spiritually, and gave me the moral support I needed. Then came the day when my hard work and their prayers paid off. I gained admission to the State University of New York at Stony Brook, with a partial scholarship. Thus began a new chapter in my life's journey.
Stony Brook University enabled me to meet people from all over the world. I experienced different cultures and various foods which I would never have experienced if I had gone to university in Ghana. I traveled from coast to coast as a student. I earned both a Bachelor of Arts and a Master of Arts in Economics from Stony Brook. Shortly after, I relocated to Cincinnati to work. I returned to Stony Brook two and a half years later to earn a Master of Science. in Industrial Management. I then took some time off to see more of the country, and finally settled in New York City where I taught in a Lutheran school. The next year, I helped to set up the St. Paul Community School in Brooklyn, New York, where Bishop Johnny Ray Youngblood was the pastor. Thereafter, I worked in the finance and insurance industries for over 13 years where I managed over
with five million dollars in assets under my management. It was during the 13th year working in the industry that I finally answered God's call to become a pastor.
I did not think that I had any special talent for being a pastor. However, before graduation, Bishop Margaret Payne and other bishops came to the seminary to interview the seniors, and on May 24, 2009, I was ordained as a Lutheran minister by Bishop Payne in Worchester MA. at the New England Synod Assembly. Then I was called to pastor Resurrection Lutheran Church in Roxbury, a church I knew nothing about. This marked the beginning of another chapter in my life's journey.
God has taken this ordinary woman from a town called Dzodze (which literally means "flown and landed,") to thirty-seven states in the USA, as well as to the UK, France, Germany, Egypt, India, and Israel. My greatest blessings, though, are my wonderful daughter Sika, and son-in-law, John Paul, and my precious grandson, Dzidzorli. I believe that as with Nehemiah, God has brought me to Resurrection to lead the Resurrection family to welcome and serve our neighbors to build this part of God's glorious Kingdom.
Our History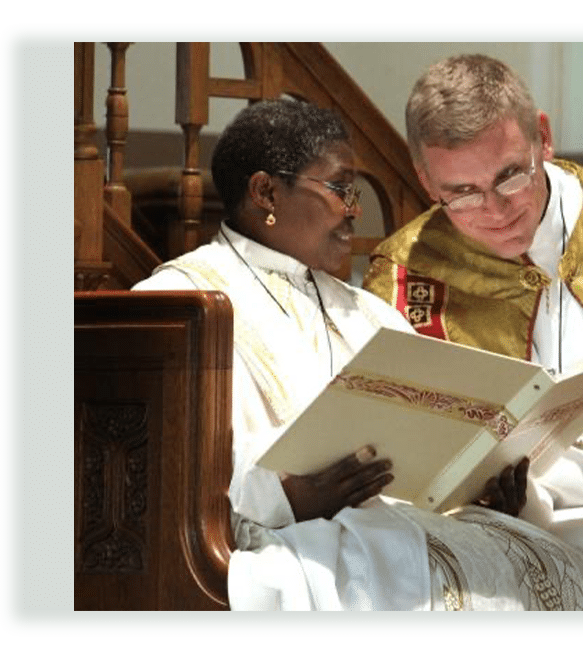 Resurrection Lutheran Church (RLC) history is deeply rooted in the evolution of the city. Our congregation has evolved from a diverse group of European immigrants from diverse Christian traditions coming to fellowship together in the city to a congregation that welcomes traditions from around the world.  Resurrection now welcomes traditions from around the world. Its people are Asian, black, Latino, and white. We are from Ghana, Tanzania, Australia, St. Kitt, Barbados, Mexico, Honduras, Jamaica, Sweden, Cape Verde, Uganda, and the U.S. We engage with the world around us and find room for one and ail, testifying to a very different notion of a holy commonwealth, one that the Puritans never could have imagined nor ever would have welcomed. Our anchor is Jesus; our motto, Many Hearts, One Lord; our mission, to Love God, Love One Another, and Love Our Neighbours
Our Programs
This bulletin will guide your worship each step of the way. Everything you need to proceed is right in your hand!
Sundays at 10 AM
Worship
As a Lutheran congregation, our worship follows ancient patterns whose central elements were established in the first centuries following Jesus' earthly ministry.
2nd and 4th Saturdays at 8 AM
Food Pantry
2nd and 4th Saturday of every month at 8 AM, for Boston residents. Free groceries are available in cooperation with the Greater Boston Food Bank.
Wednesdays at 7 PM
(AA)
Alcoholics Anonymous Every Wednesday at 7 PM, open meeting
Residential Care
Sober housing and care for individuals overcoming substance abuse at the former church parsonage offered by Steps 2 Solutions.
Bible Study
Bible Study Sundays, 9 AM (all ages) Wednesdays, 6:30 PM (adults) Thursdays, 11 AM (adults)